School Felt Workshops
School Felt Workshops By Carol Martin
Link the ancient skill of felt making to the school curriculum.
Felt making ties in with literacy, numeracy, science, history, art and design.
Any topic can be covered such as space, minibeasts, Tudors, Vikings, World Art, fairy tales, sealife and many more!
I am a PGCE qualified primary school teacher.
I have public liability insurance and am CRB checked.
Staff inset training also offered.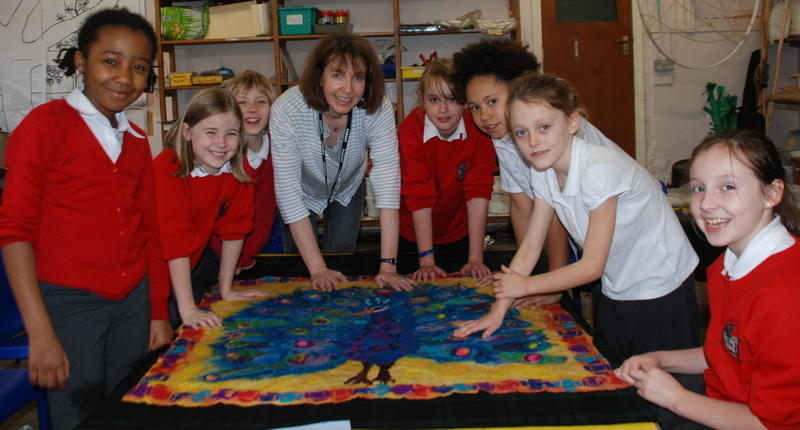 Tallula, Hannah, Toby, me, Emily, Sharisa, Mia and Lydia happy with their finished work of art!

How Feltmaking can be linked to the school curriculum
Literacy : Following and writing instructions.
Numeracy : Measuring and weighing skills.
Science : Feltmaking is a great example of irreversible changes. Handmade felt can be used in many science topics from space to minibeasts.
History : Felt has been made and used throughout the centuries and lends itself to many topics, in particular the Vikings and Anglo-Saxons.
Art : Feltmaking is a very creative and artistic process. All children can achieve wonderful results regardless of their artistic ability.
Design : Children can plan and design their own unique creations.
Testimonials
"Carol has led a number of art projects with children from Nursery to Year 6.
We have been delighted with the amazing work she enabled the children, of all ages, to produce. From snakes to African landscapes, planets to tudor roses, the children have taken strips of wool, and step-by-step, transformed it into fabulous felt creations, designs and pictures for all to admire.
Carol's preparation of resources, thoughtful attention to detail and calm, clear explanations ensure all children enjoy a successful outcome, whatever their artistic ability, and evidence of this is on display throughout the school.
Carol has an excellent rapport with all the staff and children in the school.
The school has benefited enormously from Carol's artistic input and talent and I have no hesitation in recommending her to other schools."
Debra Birchall
Headteacher of Chorlton CE Primary School, Manchester.
"The felt hanging is amazing. It will be placed in a prominent position. Thank you for all your hard work and your dedication to it's completion! All the staff and children who were involved, have only had good and positve comments about the experience."
Rabena Rafi, The Arts Coordinator, Brookburn Primary School, Chorlton, Manchester
"I would recommend this activity for any teacher teaching the topic on Tudors. The children are engaged and enthused during the whole process. It is a creative and imaginative way to produce a Tudor rose and all are individual. The children learn so many new processes and techniques and could easily apply this skill at home. It is expertly led by Carol whose passion is passed on to the children."
Mr Longworth Y5 teacher at Chorlton C of E.
Y5 Children quotes on making a Tudor Rose 2014;
"It was great and I want to do it again! Can we do something like this in our next topic?"
"Epic! It was fun all afternoon and I lost count rolling the felt!"
"Was easily explained and I was supported when I need it."
"It looks like a Tudor Rose and I loved making it."
"I didnt realise you can do something like this and want to do it again!"
Comments by Year 5 children on making a Tudor Rose 2011:
"It was an amazing experience. It was really fun!" Khushi
"I thought the felting was really nice because it was very creative." Matthew
"I thought the activity was really fun and a real challenge." Jaya
"I thought this was a great opportunity for me and my friends." Joe
"This was a fun change from what we normally do in school and I enjoyed it." Akiel
"I thought the felting was really fun because it is a chance to make different shapes." Harry
Comments from teachers and support staff at Lapage Primary School, Bradford:
"The day was really good and has given me loads of ideas to use in the future." Ms Woodwell
"It was accessible for all abilities and all children were engaged." Mrs Lodge
"The felt workshop was really enjoyable!" Miss Hurst
Comments from Year 1 children at Lapage Primary School, Bradford:
"I liked the felt day because when we were making the felt there were lots of bubbles." Momna
"I enjoyed it because it was fun." Sumayya
"I enjoyed the felt day because we made funny aliens." Sofia
Comments from participants of the One Planet Community Project
"A little line to say thank you for your wonderful felt making session on Saturday afternoon at the Haworth. Both I and my friend Sheelagh enjoyed it enormously, as I feel sure did all the class." Diane
"Thank you for providing Lancashire Women's Network with your services. The women on the day thoroughly enjoyed it and said it was very relaxing and also they would like to do more. Well done to the One Planet Shop and yourself for carrying out some fantastic work! Many Thanks." Javiria Khan, Community Development Officer
"Thank you for the felt workshop; I really enjoyed it! It was an inspiration and a craft that I would like to have another go at. I felt that the workshop was very well organised with each participant being given a bag with all the materials needed to complete the projects. Many thanks again for a fantastic crafting experience." Sue
"I just love making the felt because I like making planets." Rhiannon, age 9
"It was really interesting and nice." Abbie, age 8
"It was amazing." Caitlin, age 8